The true Masters of Dota 2 shall rise
May 26-28, 2017
Mall of Asia Arena, Pasay, Metro Manila
USD 250,000 Prize Pool
Watch Trailer
The Masters
A Dota 2 legacy in the making.
A master is the epitome of his profession, exhibiting skill par excellence, greatness above all else.
In the world of Dota 2, where the title of greatest is so fleeting and glory hangs on split-second decisions, this excellence is proven only in the battlefield of champions. The title of Master must be earned.
We present to you The Masters, a Dota 2 tournament that will gather some of the best in the world.
Organized by the Mineski-Events Team and supported by ESL, featuring a scale fitting for gladiators of the world stage, The Masters will surely change the competitive Dota 2 landscape as we know it.
The first chapter of The Masters opens this May in the Philippines. Who will rise from the rest and be crowned the Manila Masters?
Updates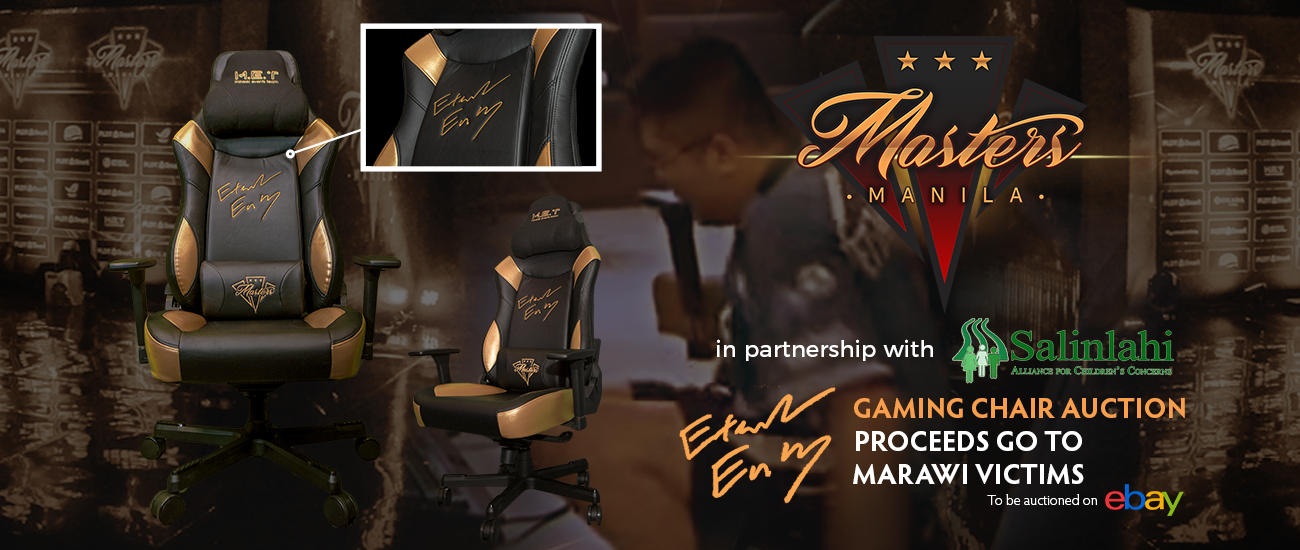 EternaLEnVy Manila Masters Chair Is Up For Auction
September 13, 2017
From the man who constantly keeps us on the edge of our seats…
Venue
SM Mall of Asia Arena
The SM Mall of Asia Arena is a prestigious site for quality events, from international star concerts to esports. ESL One Manila was held there in 2016.
Exclusive merchandise will be on sale at The Secret Shop PH store at the venue.
FAQ
Where can I purchase tickets?

You can purchase tickets either through official SM Tickets outlets inside SM Malls, or online, via smtickets.com.

Can I buy tickets even if I'm not in the Philippines?

Yes! Online ticket purchasing is open to fans outside the Philippines.

Are the tickets free or reserved seating?

Premium and Lower Rank tickets will both be reserved seating, while Upper Rank and General Admission will both be free seating.

Can I have someone else claim the tickets I ordered?

As per SM rules, online purchase and redemption will no longer be allowed via representative.

Please do note that you are required to present a valid ID, as well as the physical credit card used for purchase upon ticket redemption.

Do I need to buy three tickets if I wish to attend all three days of the Manila Masters?

No. Each purchase is already inclusive of access for the entirety of the event. You should get three stubs for each ticket purchased, one for each day.

What if I can't go to the first day?

Tickets are valid per day so you can still go to the Saturday and Sunday event so long as you still have your tickets for the next two days.

If I go out of the arena in the middle of the program, will I be allowed to re-enter?

Yes. SM MOA Arena is allowing re-entry for ticket holders throughout the Manila Masters.

If I am a premium ticket holder but cannot attend on the first day, will I still be able to get my loot bag?

Yes! The loot bags, which will also include your food stubs for all three days, can be claimed on any day as long as you provide your Day 1 ticket.

If you come in only in day 2 or day 3 you can still get your loots bags provided you bring in your Day 1 ticket as required.

Can I still attend the VIP Signing Sessions if I am not a premium ticket holder?

Unfortunately, due to logistical demands, the sessions will be limited only to premium ticket holders.

How many tickets can I buy in one go?

To better accommodate as many fans as we can, ticket purchase has been capped at 5 per account (online) or person (onsite purchase).

What time will the event start each day?

Gates open at 9AM, with the event itself starting at 10. See you guys there!
Some reminders for online customers from SM Tickets
Customers with registered accounts must present the following upon redemption of tickets:
Online user account name must be the same with the credit card used and presented during redemption.
Additional valid government ID must be presented.
Physical credit card used must be presented.
Name on the credit card must be the same as the online user account created in our website.
Credit card number must be the same as indicated in the claim ticket voucher.